Meet Karen Barger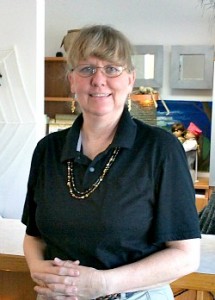 Karen was born into a Medical family (father was an MD, Family Practice) and raised in Pomona California during the turbulent 60s and early 70s. Graduated from LaVerne College with a degree in English and multiple minors including Music, Art and Journalism, then went back to school for her Master's in Education.
While raising 2 beautiful kids with her husband of 30 years, Jim, she worked for many years as a teacher, but also as a Supervisor in a bank, in the LA County Library system, at Disneyland, as a receptionist and insurance specialist in a medical office, and for the last 10 years, as the full-time manager/CA/insurance/receptionist for Barger Chiropractic.
"Because I grew up with a medical doctor/father, I have a different and fairly unique perspective on Chiropractic.
I was not a 'believer' until I ended up with a horrible migraine headache from driving in LA traffic. I went in to see Dr. Barger (yes, that was over 30 years ago) and was adjusted. Within an hour, my headache was completely gone…no meds required.
Over the years, I have injured myself several times, not to mention am prone to migraine headaches and bad neck pain, and rather than going to an MD to get prescriptions or having surgery, I have gotten adjustments instead. I am healthier now at age 56 than I was at age 30. Just a side note, I married Dr. Barger in 1982 and we have 2 beautiful and brilliant adult children who are healthy and 'well-adjusted' even after years of gymnastics and coaching and all the other things kids do to themselves growing up.
I love working with Dr. Barger because we see a lot of people come into our office in pain, some of them wheeled in or using a walker, and often they walk out on their own after the first adjustment or within the first few. Many people come in nervous about seeing a chiropractor for the first time, and then are amazed how good they feel afterward–and many of those patients have continued with us for many years, coming in when they need to be adjusted, and when they've hurt themselves and need to be 'fixed'. "
In addition to greeting patients and taking care of all the paperwork, I also help our patients by providing information on nutrition, healthy and nutritional cooking (and eating) as well as self-reliance and sustainable, organic gardening and suburban farming. I am self-educated in healthy growing practices -for the folks who want to grow their own fruits and veggies, as well as raising suburban chickens. I also provide information on healthy, nutritional cooking and baking, fermentation, sprouting and canning your own good, healthy food combined with the doctor's adjustments for optimum health.