Meet Dr. Barger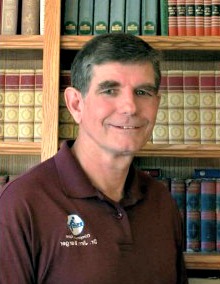 When you choose Dr. Barger to be your health care provider, he will make great efforts to find out as much as he can about your health. It is only fair that you learn something about him too.
"My first experience with chiropractic came about shortly after I experienced a violent tackle while playing football in high school. My father took me to his chiropractor, who promptly found the cause of my aching neck and back.
The results – after just a few adjustments-were fantastic! I felt like I had regained my competitive life, as well as discovering a new passion for this form of healing."
With a burning desire to help others and to improve himself, Dr. Barger continues to learn the latest, leading edge techniques to help his headache, neck, mid and low back pain patients at his Folsom office.
He regularly takes more than the required continuing education hours. He holds advanced certificates in the study of chiropractic orthopedics. Through this program, he became a Qualifiied Medical Examiner and performed many impartial evaluations of injured workers. In 1994, he completed the Certified Chiropractic Sports Practitioner program at Palmer West Chiropractic College.
His most recent accomplishment is completing an extensive course of study in functional diagnostic medicine through the University of Functional Medicine. He is well-versed and experienced in treating athletes, the elderly, children, expecting mothers, people with disc problems, neuropathies, degenerative problems and even post failed back spinal surgery cases. In the over 30 years of post-graduate training and experience, he has mastered numerous techniques to best treat a broad range of patient types, from the pre-school child with "a cold in the neck" to the 90-plus year old with chronic pain. A list of techniques utilized at Barger Chiropractic of Folsom is under the Services and Techniques above.
Some new patients have apprehension or anxiety when meeting a new health care provider. This is a normal emotion. They are often looking for a solution to a very personal health condition from someone whom they have just met. This type of relationship requires a lot of trust. The way Dr. Barger approachs this need for trust is to treat you in the same way that he would treat a member of his own family. He works hard to determine the source and cause of your concern, and based upon that, gives you his best recommendations and excellence in care.
On a personal note, Dr Barger has lived in the Folsom/Granite Bay area for 20 years, is married to his wonderful office manager and receptionist (Karen), and they have been blessed in raising two amazing kids to adulthood (Jennifer and Matthew). When he has the time, he enjoys a variety of sports, including whitewater rafting/kayaking, alpine skiing and bike riding, plus working in our gardens with his wife and just being outdoors.
Thank you for visiting this site. Dr. Barger looks forward to meeting you in person and seeing how he may be of service to you. Give our office a call or email Barger Chiropractic using the link below and let's arrange a time to explore your options!